Google Translate
A few months ago, our section of Cinema and Architecture showed us the story of Michael Reynolds, a visionary and rebel architect who has driven a number of pilot initiatives around the world, challenging the status quo and promoting a new kind of architecture based on recycling and self-sufficiency.
The "Tol-Haru, Spaceship Earth End of the World" project, located in Ushuaia, Argentina (in a central land donated by the Municipality) - has been completely built from recycled materials and have the ability to calefaccionarse and cooled through wind and solar energy, reuse rainwater and to recycle their own waste.
More details of the new venture Reynolds in South America, after the jump.
The proposal, dubbed "the first self-sustaining housing in Latin America" ​​began its construction in the early days of January this year and has been driven by the actors Mariano Torre and his wife, Elena Roger, members of the NAT Foundation (Nature Applied of Technology), in addition to the backing of the Mayor of Ushuaia, Federico Sciurano.
Reynolds, who is part of Earthship Biotecture , an organization dedicated to fostering such buildings globally, chose this city in the "end of the world" as a symbol of "a new relationship between man and earth, not is so destructive, "says Mariano Torre.
As part of the project, the architect made the city the first "International Training Academy for building self-sustaining", for 50 students selected by him and a group of 10 Fuegians interested.
The Project
The house was built by 60 people (from different parts of the world) through recycling of tires 333, 3000 aluminum cans, 5,000 plastic bottles and glass bottles 3000. The construction consists of two cylindrical volumes of 50 square meters of glass and a frame that allows the housing to maintain a constant temperature between 18 and 22 degrees, saving electricity.
The builders say that the sustainability of the project is defined based on the cooling and heating by thermal mass (avoiding the use of fossil fuels) and construction with natural and recycled materials, and integrate the collection, filtering and cleaning water rain, sewage treatment, sustainable production of fruits and vegetables, and energy supply through wind and solar power.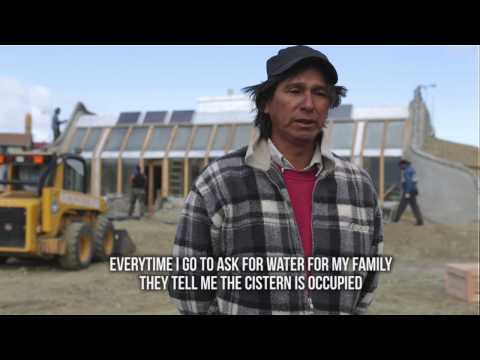 The actress and singer Elena Roger-developer of the "Spaceship Earth" - said: "For us it is more important to carry out this project because we see that cities are completely saturated and I think Ushuaia is time to reverse that.
This construction shows that we can bring to the planet rather than saturate it ".
More details of sustainable experience in the following link.
References: Earthship / Rio Black / Nuevo Diario Web Santiago del Estero
Pictures © Earthship Biotecture