Growing food in the desert: is this the solution to the world's food crisis? | Environment | The Observer
:

It's the kind of thing an enlightened futurologist might have imagined for the 21st century, and to enter Sundrop's greenhouse from the desert outside, passing the array of sun-tracking solar parabolic mirrors that looks like something from a film set, is to feel you've arrived at a template for tomorrow-world. The warm, humid air laden with the scent of ripening tomatoes is in such contrast to the harsh landscape outside, where it tops a parched 40C for much of the year, that it feels as if the more brutal sides of both nature and economics are being benignly cheated. You can supply billions with healthy, cheap food, help save the planet and make a fortune? There has to be a catch.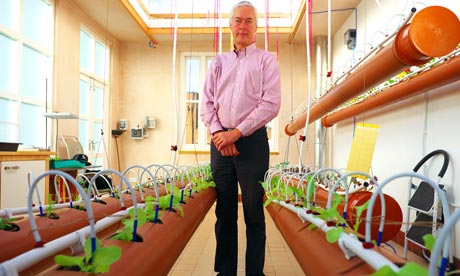 There seems, however, to be only one significant person in the world who feels there is indeed a catch, and, a little bizarrely, that is the inventor of the technology, one
Charlie Paton
, the British lighting man mentioned earlier, who is currently to be found in his own experimental greenhouse, atop a three- storey former bakery at the London Fields end of Hackney, east London, feeling proud-ish, but not a little sour, about the way things have worked out 10,000 miles away in the desert between the Flinders mountains and the Spencer Gulf.
If you are of an ecological bent, Paton's name may ring a bell. He is the multi-honoured founder of a veritable icon of the green world, a 21-year established family company called
Seawater Greenhouse
, originators of the idea of growing crops using only sunlight and seawater. Earlier this month, Paton was given the prestigious title Royal Designer for Industry by the Royal Society of Arts, and a few months earlier, Seawater Greenhouse won first prize in the best product category of the UK's biggest climate-change awards scheme, Climate Week. If Sundrop Farms takes off worldwide, the charming and idealistic Charlie Paton could well be in line for a knighthood, even a Nobel Prize; the potential of his brainchild – the ability to grow infinite quantities of cheap, wholesome food in
deserts
– is that great.
There's just one problem in all this. Although he and his family built the South Australia greenhouse with their own hands, Sundrop has abandoned pretty much every scrap of the ultra-simple Paton technology regarding it as "too Heath Robinson" and commercially hopeless. Some of the Patons' home-made solar panels in wooden frames are still connected up and powering fans, but are falling apart. Nearly all the rest of their installation has been replaced with hi-tech kit which its spiritual father views with contempt. He dismisses Sundrop's gleaming new £160,000 tracking mirrors from Germany and the thrumming Swiss desalination plant and heat-exchanging tanks as "bells and whistles" put in to impress investors. Sundrop and Seawater have parted company and Paton accuses them of abandoning sustainability in the interests of commercial greed. He is particularly distressed by the installation of a backup gas boiler to keep the crops safe if it's cloudy for a few days.

But we will return to Charlie Paton later; sadly, perhaps, developments in the South Australian desert are now overshadowing the doubts and travails of their original inspiration. And they are quite some developments. "These guys have been bold and adventurous in having the audacity to think that they could do it," says the head of Australia's government-funded desalination research institute, Neil Palmer. "They are making food without risk, eliminating the problems caused not just by floods, frost, hail but by lack of water, too, which now becomes a non-issue. Plus, it stacks up economically and it's infinitely scalable – there's no shortage of sunshine or seawater here. It's all very impressive."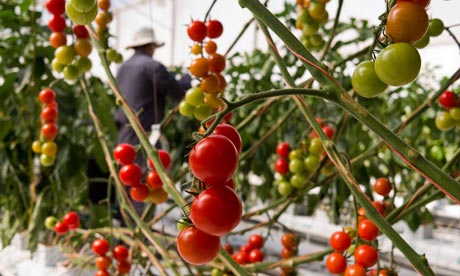 "The sky really is now the limit," confirms Dutch water engineer Reinier Wolterbeek, Sundrop's project manager. "For one thing, we are all young and very ambitious. That's how we select new team members. And having shown to tough-minded horticulturalists, economists and supermarket buyers that what we can do works and makes commercial sense, there's now the possibility of growing protein, too, in these closed, controlled greenhouse environments. And that means feeding the world, no less."
An unexpected bonus of the Sundrop system is that the vegetables produced, while cropping year-round and satisfying the supermarkets' demand for blemish-free aesthetic perfection, can also be effectively organic. It can't be called organic (in Australia at least) because it's grown "hydroponically" – not in soil – but it is wholly pesticide-free, a selling point the Australian supermarkets are seizing on, and apparently fed only benign nutrients. Sundrop is already being sold in local greengrocers in Port Augusta as an ethically and environmentally friendly high-end brand.
Because there's no shortage of desert in which to site it, a Sundrop greenhouse can be built in isolation from others and be less prone to roving pests. Those that sneak in can be eliminated naturally. In this closeted micro-world, Dave Pratt with his trusty iPhone app is free to play God. Not only does Dave have a flight of in-house bees to do their stuff in the greenhouse (who also live a charmed life as they enjoy a perfect, Dave- controlled climate with no predators) but he also has at his command a platoon of "beneficial insects" called Orius, or pirate bugs. These kill crop-destroying pests called thrips, and do so – weirdly in nature – not for food but for, well, fun. So unless you feel for thrips, or believe food should only be grown in God's own soil and subject to God's own pestilences, Sundrop produce seems to be pure and ethical enough to satisfy all but the most eco-fussy.