Translucent Dome / Solar Attic / Green Roof
:
Living in a green roof garden is possible, as seen in first photos. Many layers of plastic serve in an "envelope insulation system" which uses green house (or conservatory) spaces as a "partial thermal insulator". Another
variations of this solar theme is linked here
. Second photo: inside a solar attic rose garden. An Italian saying suggests: "forgive the thorns for the beauty of the rose". The challenge of living inside a greenhouse is climate control. Either some tolerance to tasteful imperfection is required or else climate control expenses are imposed. We chose economical tolerance and happily managed at low cost..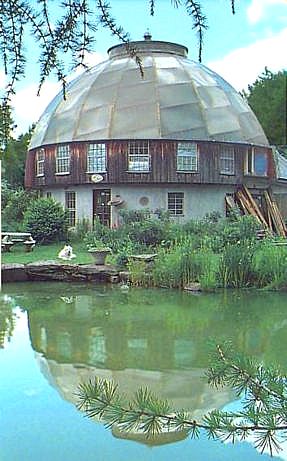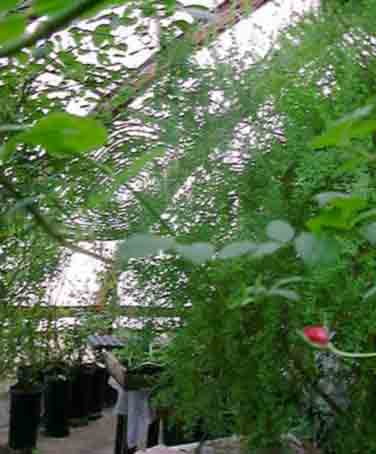 I would offer more pictures here except that styling is not my point. Yes, we knew about more sterile approaches like hydroponics and newer 'aeroponics'. My wife, who tends it, chose live soil which introduces an complex 'wild' ecosystem. It requires continued work for the occupant but this kind of work is useful exercise and could evolve into more fun if web groups would foster the idea and eventually embed the idea in popular culture. Most of the work involves watering, tending to ventilation hatches, careful clean up of plant invaders debris and fostering of beneficials. (More on the "beneficials" appears several paragraphs below.)
Transpiration by plants and evaporation generally improve indoor humidity. This is readily observed and humidity reduces static electricity too. I've not observed house mold issues or problems as might be expected, however snail-mail envelopes tend to stick shut after a few years (due to this level of humidity). We never got around to mechanizing with automatic controls-- Which are actually more expensive, given our fairly low level income from outside work. Creative people are not highly sought after, to do work, according to our lifelong experience-- At least for long lasting careers.
Frankly, i suspect that humidity "grounds out" or reduces electrical charges indoors and in so doing suppresses mild EMR pollution, (EMR means Electromagnetic Radiation). As i love Nikola Tesla's legacy, EMR pollution worries me less. I expect that intense radiation from cell phones and excessive wireless gadgetry can stress life needlessly. Mild EMR is unavoidable and i believe moderate humidity solves most associated radiation issues, through electrical dissipation in the humid air. Except where a person suffers from severe sensitivities and vulnerabilities. (We do not suffer such things).
Moreover, a good level of humidity tends to weigh down dust particles, so that we need not breath them in. Broom sweeping becomes far less dusty. Compared with little ionizer devices which i tested. Live plants or even drying green firewood indoors, has maintained wanted humidity levels and ultimately costs less. I noticed that the ionizers tended to wear out the electrodes too soon and such maintenance is less fun than plant maintenance.
The attic greenhouse works like a huge solar chimney when the vent is open. We partitioned the dome interior and zoned the climate levels. The attic climate swings widely between sun up and down. The attic never freezes nor fries the roses within it. Plant pests are always a great concern from insects to mildew as we have explored what is possible without use of commercial pesticides or toxic chemicals. I have observed commercial green house operators with health consequences due to agro- chemical treatments. My wife has tried a number of organic remedies,(bio degradable and generally non-toxic). This includes numerous strategies of pest management, especially organisms called beneficials, (
largely from this source
). I will try to briefly describe several as follows.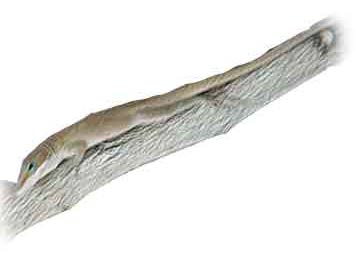 We have wondered if purchased lizards survive well. Every once in a while one is seen, catching a fly or just quietly sunning itself, or lapping water from a leaf. We hope the lizards find other beneficials too slow moving to interest them (as lizards hunt acrobatically with speed but never attack or bite humans). I could try to photograph each beneficial but my camera is poor for close up pictures. Besides
the internet has great photos and links
already. We love lace wings but rarely see any, while many have been purchased and released inside. (We can only hope they are not lost to the lizards?). Crypts are often visible in the larval stage. Lady bugs come with the wind and are welcomed. It was a pleasant surprise to learn that lightning bugs are beneficials, though the very few we captured have not been noticed much indoors, as yet. North Eastern USA has abundant fireflies, spread the word, they are beneficials!
Also an apparently good control for mildew is simple pressurized water spray followed by floor sweeping up. We get very little ventilation during winter due to conserving heat. Electric fans can use a lot of expensive AC power. Solar fans may one day make sense but the capacity needed is expensive. Another hope in my heart is use of ultra violet light treatment or perhaps ionized air or both. I bought a small unit but it was hard to tell if it accomplishes much. A big unit might do more, but it is hard to justify purchases like that. Sadly, the ultra violet sun rays (UV) are filtered out by the dome shelter and the UV also wears out almost any material over time. With patience, society may yet find better building materials to let just enough UV in, as does the atmosphere. Developing a green thumb attitude really has been essential, but i am impressed at the crop of flowers and figs. We now patiently are trying avocados and peppers which can't propagate outdoors (here in Maine).
The floors beneath ensconces a smaller orchid greenhouse to the south and other insulated rooms. My wife is primarily interested in flower research. (As wedding flowers have proved our best income source, over the years. Better, actually, than was my sculptural concrete contracting and sales work. I never once had a request to build a solar attic garden space-- I never could afford promotion, outside of my website.)
_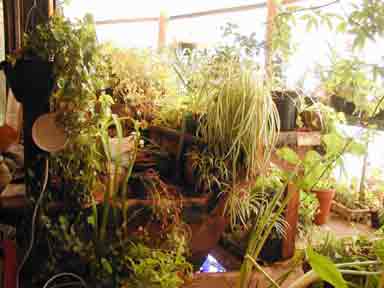 Natural lighting through a dozen layers of plastic sensitizes the 2nd floor rooms to daytime living. We have never felt it worthwhile to add insulating curtains, but originally intended more partitioning. Living an unfinished-house-lifestyle worked out best for us.The skylight aperture is too large to do this easily or economically. Nor have we chosen to reduce the day light aperture, by adding some opaque insulation. While the insulation value could be far higher with opaque insulation, we accept the heating sacrifices, to get that natural daytime lighting. Ultimately i believe that affordable translucent insulation will be marketed.